In accordance with construction safety regulations, fire doors are indispensable in all buildings, dwellings, large surfaces, factories, hospitals, etc., as well as any other place where fire safety levels are required, ensuring the protection of people, objects and spaces.
They are made up of one or more leaves and each leaf has a U-shaped metal profile around the perimeter that acts closing as leaf.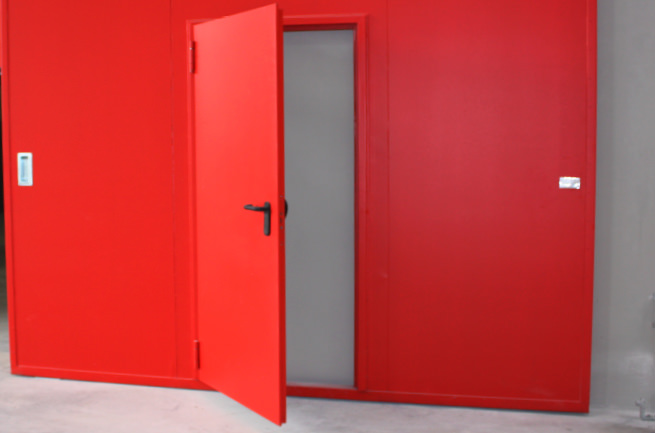 Inkema offers choice of sliding and vertical fire doors with built-in Pedestrian Fire Door, a mandatory option when the door is located on an evacuation route.
The perfect combination for your fire door.
The standard finish of the pedestrian door is the CLASSIC finish: Pre-lacquered sheet in RAL 7035 with protection film and frame lacquered in plain epoxy-polyester RAL 7035. Depending on the dimensions of the door, the following can be ordered optionally,
Embossed GAMACOLOR RAL finish: Frame and sheet lacquered with powder paint with textured embossed finish.
GAMACOLOR PVC finish: Sheet with PVC coating of various finishes and colours. The frame is lacquered in epoxy-polyester in the RAL most similar to the leaf. Also wood or metal imitation.
Types of Pedestrian Doors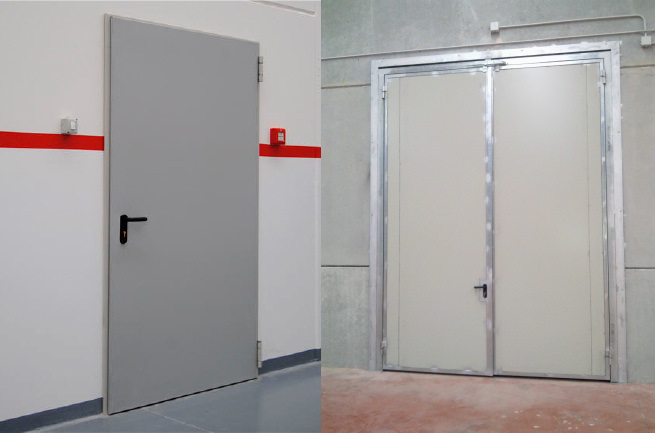 With ONE LEAF or TWO LEAVES
Main characteristics of the pedestrian door:
1 or 2 leaves.
Perimeter frame with galvanised steel plate.
Handles and lock with key.
Optional vision panel and panic bar.
Door closer with tension spring.
Special sizes upon request.
Max. door weight: 25Kg./m2.
LEAF COMPONENTS:
53mm. thick leaf made of 0.7mm galvanised steel sheet skinpass type. ROCKWOOL insulation with a density of 150kg/m3.
Approved hinges, CE marked, one with semi-automatic spring closing drive.
CE marked approved lock and patented key cylinder.
Fire-resistant handle according to DIN standard. It is made of black fireproof polyamide with a steel core.
Anti-leverage point.
Two spacers, in the lock and lower corner for installation.
Metal identification plate with RF approval.