Inkema's Rolling Fire Door - RFENR is especially recommended for situations in which a fire-retardant resistance of 120 minutes is required - according to EI(1) classification. It should only be used in the event of fire alarm, not suitable for daily use.
Thanks to the small space required for its installation being the fireproof roll-up door is commonly used in hospitals, offices, shopping centres, shops, restaurants, schools and different industrial facilities.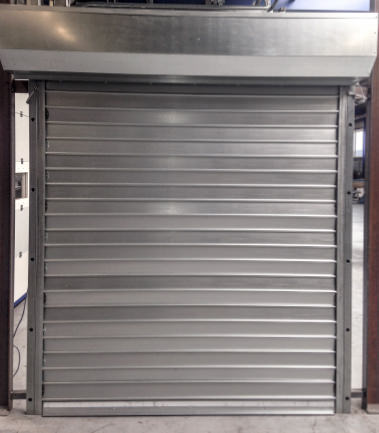 Its central structure is made of 60mm galvanised steel. The slats are made of thick profiles of 0.80mm galvanised sheet steel filled with special fire-resistant insulating material.
The bottom of the structure is made of L-shaped galvanised steel connected with rivets.
The steel slats are equipped with a unique system that allows them to be fitted and removed at an angle of 90 degrees.
RFENR DOOR MAIN FEATURES:
Maximum height: 15 metres
Maximum width: 15 metres
Maximum gap: 100m2
Fast and easy assembly system
Minimal space for installation.
Solutions adapted to every need.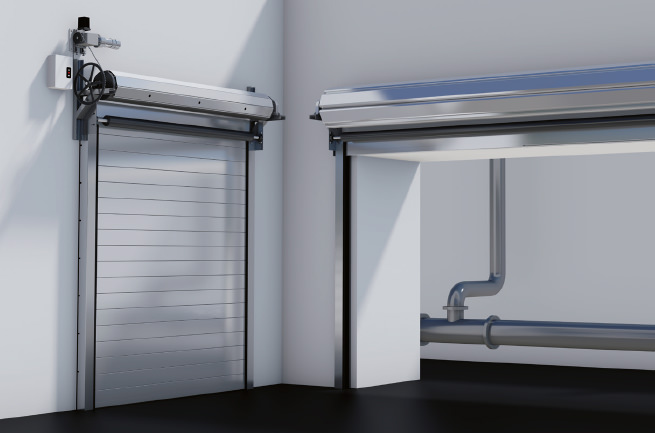 OPERATION:
The RFENR is designed to deliver flame integrity and smoke permeability up to 120 minutes.
The door operation consists of two steel supports attached to a tube. The supports are fixed to the wall through bolts and resistant profiles.
To ensure the stability during fire door operation, a special self-adjusting support is installed between the frames to ensure correct winding.
SAFETY:
If the RFENR door is installed on public builidings, a safety brake (optional) must be added to it.
The requirements for automatic door closing include one or more of the following elements: infrared sensors, light curtain and/or obstacle detection by pressure.
MOTOR:
Depending on each situation, the Rolling Fire door is equipped with either a 400V direct shaft block motor or a 400V chain drive motor. When the roll-up door needs to be in closed position in a voltage failure situation, a 400V block motor must be used in combination with a 230V control unit and a 400V fail-safe chain drive battery or motor.
Contact us, and our commercial team will study the characteristics of your facility to offer the most appropriate response to your need.