The installation of fire doors is becoming increasingly common, as current building regulations require a high level of protection in industrial buildings. Inkema's Rolling Fire Doors provide the solution.
These doors are highly resistant, thermally and acoustically insulated. They roll up on themselves, taking up very little space. Inkema Rolling Fire doors are particularly suitable for situations where a fire retardant resistance of 60 minutes - according to EI(1) classification - is required. Only to be used in the event of a fire alarm, they are not suitable for everyday use.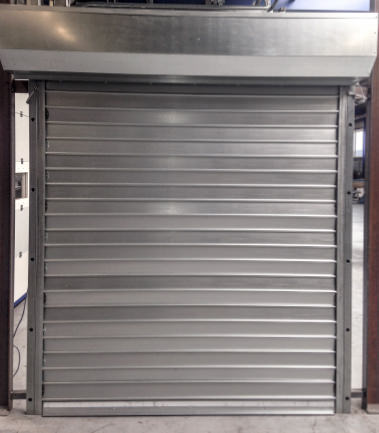 Its central structure is made of 60mm galvanised steel. The slats are made of thick profiles of 0.80mm galvanised sheet steel filled with special fire-resistant insulating material.
The bottom of the structure is made of L-shaped galvanised steel connected with rivets.
The steel slats are equipped with a unique system that allows them to be fitted and removed at an angle of 90 degrees.
RFENM Door Main Features:
Maximum height: 8.000mm
Maximum width: 9.250mm
Maximum gap: 40m2
Fast and easy assembly system
Minimal space for installation.
Fire doors that take up very little space.
Depending on each situation, the Rolling Fire door is equipped with either a 400V direct shaft block motor or a 400V chain drive motor. When the roll-up door needs to be in closed position in a voltage failure situation, a 400V block motor must be used in combination with a 230V control unit and a 400V fail-safe chain drive battery or motor.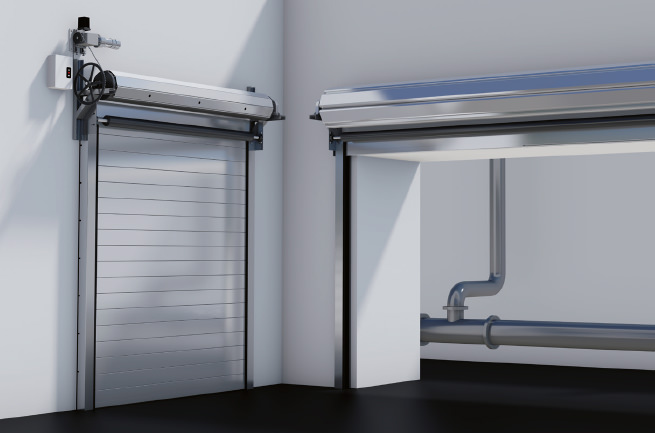 In situations with small doors, the option of a 230V tubular motor can be chosen. Furthermore, if the door is needed to be operative during power outages, the choice of a UPS or security tubular motor is also available. This ensures that the door is fully closed under control.
The fire roll-up door can be optionally made of galvanised steel and/or with motor casing.
All steel door components can be supplied in any desired RAL colour. In addition, with the exception of the frame, all visible steel components can be manufactured in 304 or 316 - stainless steel.
The slats have also been successfully smoke tested on both sides (EN 1634-3).
Contact us, and our commercial team will study the characteristics of your installation to offer the most appropriate response to your needs.