The Inkema High-Speed Door PR17, with its self-repairing system and high-quality construction, is the perfect choice for supermarkets and retail stores seeking efficient separation between their storage area and sales zone.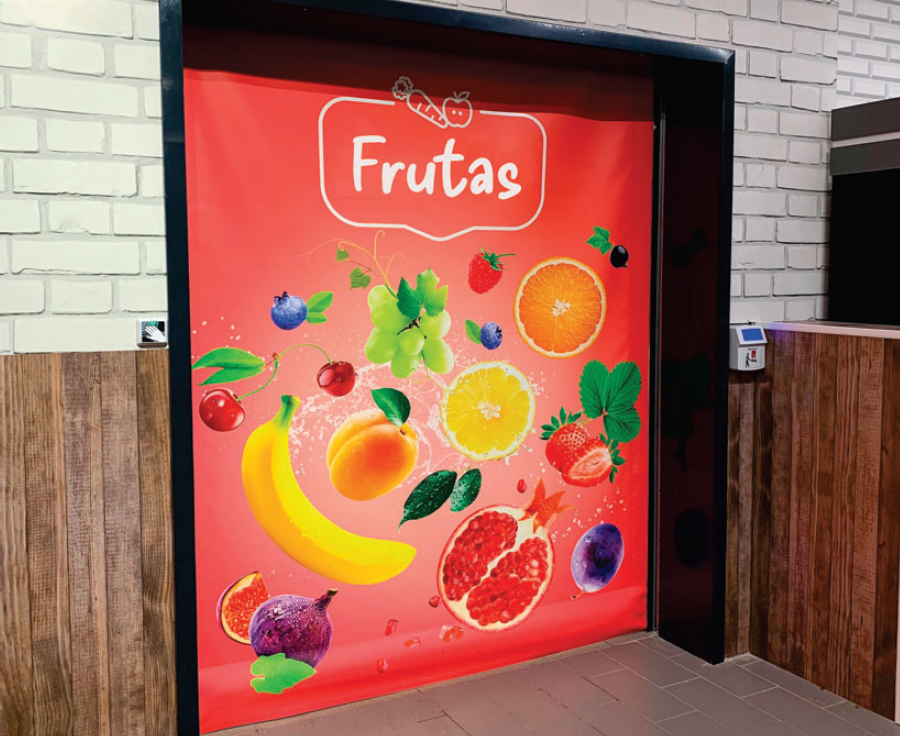 Featuring an innovative flexible bag system, this door ensures optimal protection and rapid recovery in the event of collisions. Made with durable materials and a high-tenacity polyester PVC curtain, the PR17 delivers long-term reliability.
Safety Systems
The PR17 features a polarized filter photoelectric curtain as a standard safety system, which prevents any collision if a person or goods pass beneath the door while it is in operation. This curtain also includes cross beams to ensure maximum protected volume.
The photoelectric curtain has safety certification in accordance with the
following regulations: EN ISO 13849-1:2008 Cat.2 PL D; EN 61508:2010 SIL2; EN 12978:2009 (SB type, excl. IEC 61496-2:2006).
Sleek and rugged design
Its sleek design, crafted from lacquered steel, enhances the aesthetics of your facilities, along with high-quality finishes. The PR17 is equipped with various safety systems and offers additional customizable options.

OPTIONALLY the canvas can be FULLY customised. >>
Technical features and perfomance
Area od use: Interior
Maximum size: 3000x3000mm (widht x heigh)
Maximum area: 9m2
Material (frame): Galvanised steel
Operated speed: 1,6m/s
Frame/canva colours: white, cream, yellow, orange, red, light blue, dark blue, green, grey and black.
Material (canva): High strength PVC (900g/m2)
Safety: Light curtain, Frequency inverter
Wind load resistence: Class 2: < 3000 x 3000 mm (EN 12424)
Air permeability: N/A
Life expectations 100.000 cycles