Motorised high-speed rolling door in galvanized steel structure for installation in
indoor areas.
Inkema Self-repairable High-speed Internal Door is composed by a PVC canvas with internal reinforcements, attached to a metal frame which incorporates a motor-reducer driven by a control panel.
PR11 high-speed door has been designed for use in warehouses, logistics centres, premises and any type of production plant which processes a lot of goods.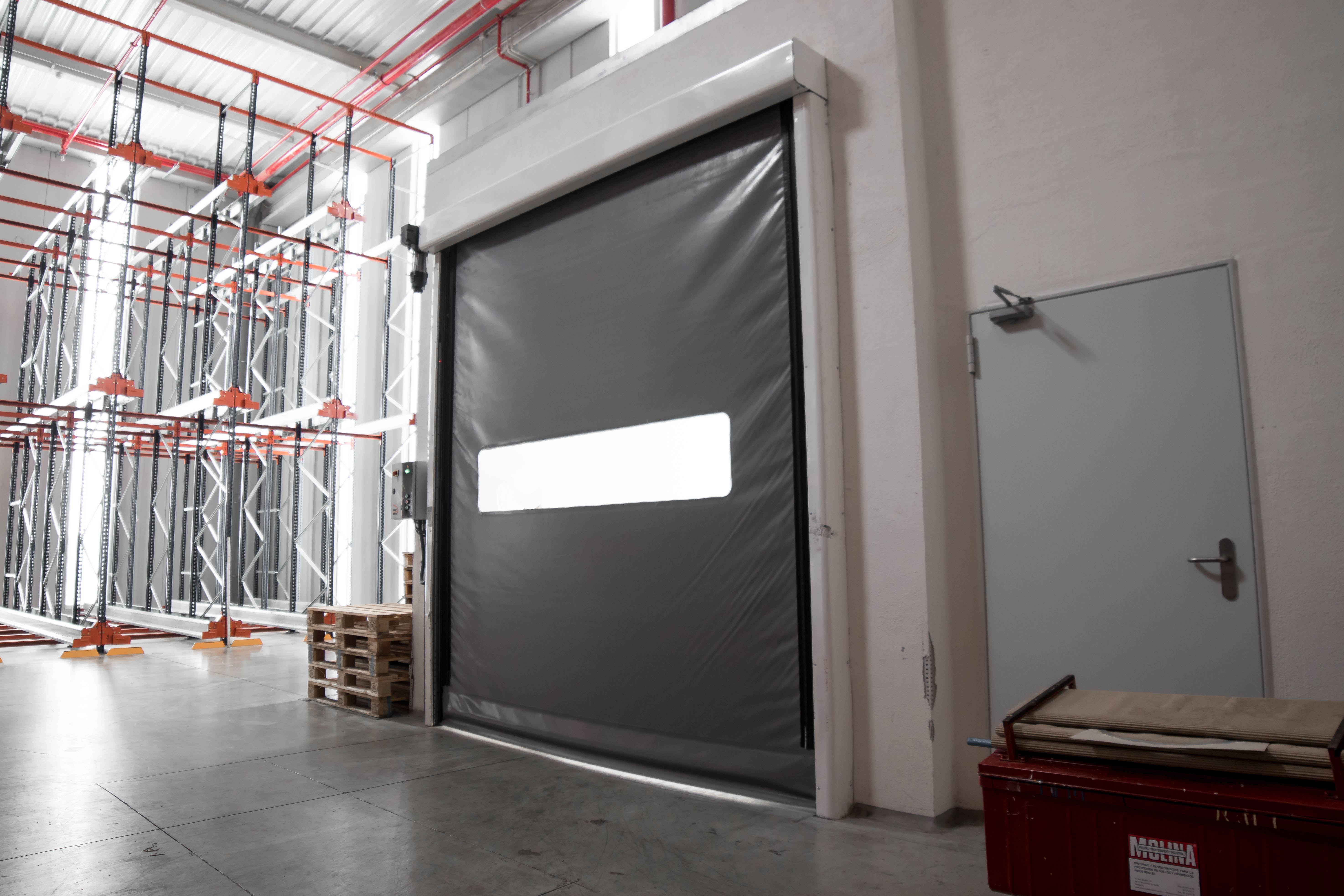 The main feature it offers is its exclusive self-repairable function, which means that when anything accidently hits the door, the canvas comes out of the guides without damaging any element of it. The door then automatically returns to its guide and continues to work as normal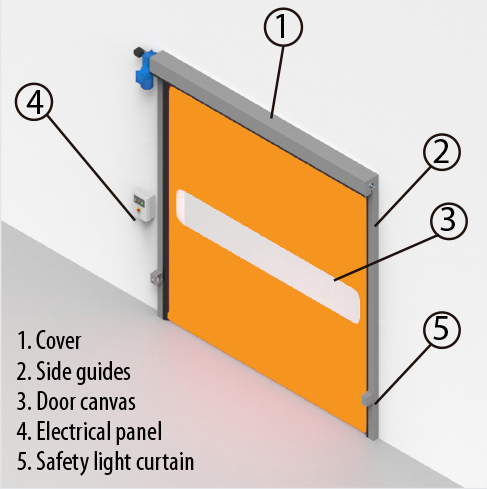 This high-speed rolling door consists of the following elements:
CANVAS: Made with flexible polyester inner mesh of great resistance and covered with PVC in 0.8mm thickness. Transversal reinforcements are placed to provide greater rigidity.
FRAME: Composed by two laterals and head, all made in 2mm folded sheet.
HEAD: It contains the pivot shaft designed to withstand friction.
GEAR MOTOR: Three-phase 400V motor asynchronous.
ELECTRICAL PANEL: Consists of safety components, power and electrical board.
OPERATION
The motorisation of this fast-acting door consists of an efficient high-quality three-phase asynchronous motor.
It also integrates a worm gear reducer delivering maximum reliability. The motor brake allows the immediate stopping of the drum when it receives orders for either stop or inversion, or in the event of a sudden power failure.
In the event of power supply failure, the engine can be disengaged, and the handle can be used to open / close the door manually.
The door's control panel is composed by protection and manoeuvre elements delivering an easy and safe operation.
Main features to bear in mind in the PR11 high-speed door:
Gauranted Auto-Repair: In case of accidental hit, the door repairs itself automatically.
Multifuntional Door: Suitable for installations of any industrial sector: agri-food, pharmaceutical,...
Maximum safety above all: Its sensor curtain inverts instantly the door in the event of detecting any obstacle.
Quick installation and easy repair: The door is delivered pre-installed. Low maintenance.
TECHNICAL DATA
Application: Indoor
Structure: Metal frame
Max. size: 4000 x 4000mm.
Material-canvas: High-strength PVC (900g/m2)
Max. speed: Opening and closing (~1.0m/s)
Safety: Photocell barrier
Control panel: Frequency shifter (optional)
Canvas and frame colours: 10 colours available (white, cream, yellow, orange, red, light blue, dark blue, green, grey and black).