Inkema's dock sectional door is an essential element for any facility, thanks to its very resistant and lightweight structure.
Made of a set of sliding panels with system of bearings. This door has a compensation line ensuring the door is in the desired position, hence not require unnecessary effort to operate it. It can be completely opaque, or it can have small windows in different positions.
Our range of sectional doors enhance the external appearance of any industrial building. Any of our doors provide a resistant and safe enclosure, separating inside from outside, with optimal insulation. Also always complying with safety directives.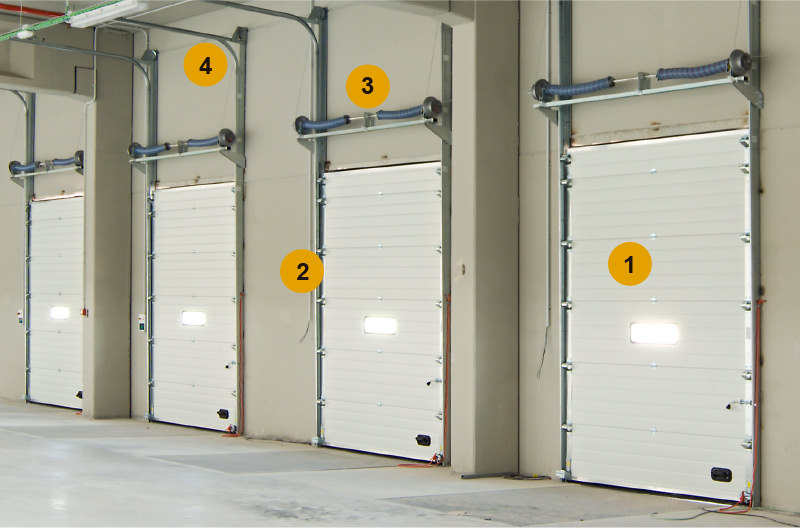 Panels: Formed by two sheets of galvanized painting for their external parts and joined by hot injected polyurethane foam to ensure its durability. It is thus obtained an insulation of 1.65 W/m²K.
Tracks: Ready-made with different 2mm. thick galvanized profiles. They hold with total security the rail where the door is slipped through the pre-frame. The tracks are specially designed to take up the minimum possible space and they are presented in different formats (vertical lift, normal lift, high lift, low headroom).
Compensation line: Designed to have a minimum life of 15,000 cycles, and with the necessary springs for their functioning. They are jointed to the rolling drums through an axle. These drums pick up the steel cable that is jointed to the panels and keeps them hung.
Door hardware: Next to the fixing screws, it is galvanized in zinc to ensure its durability.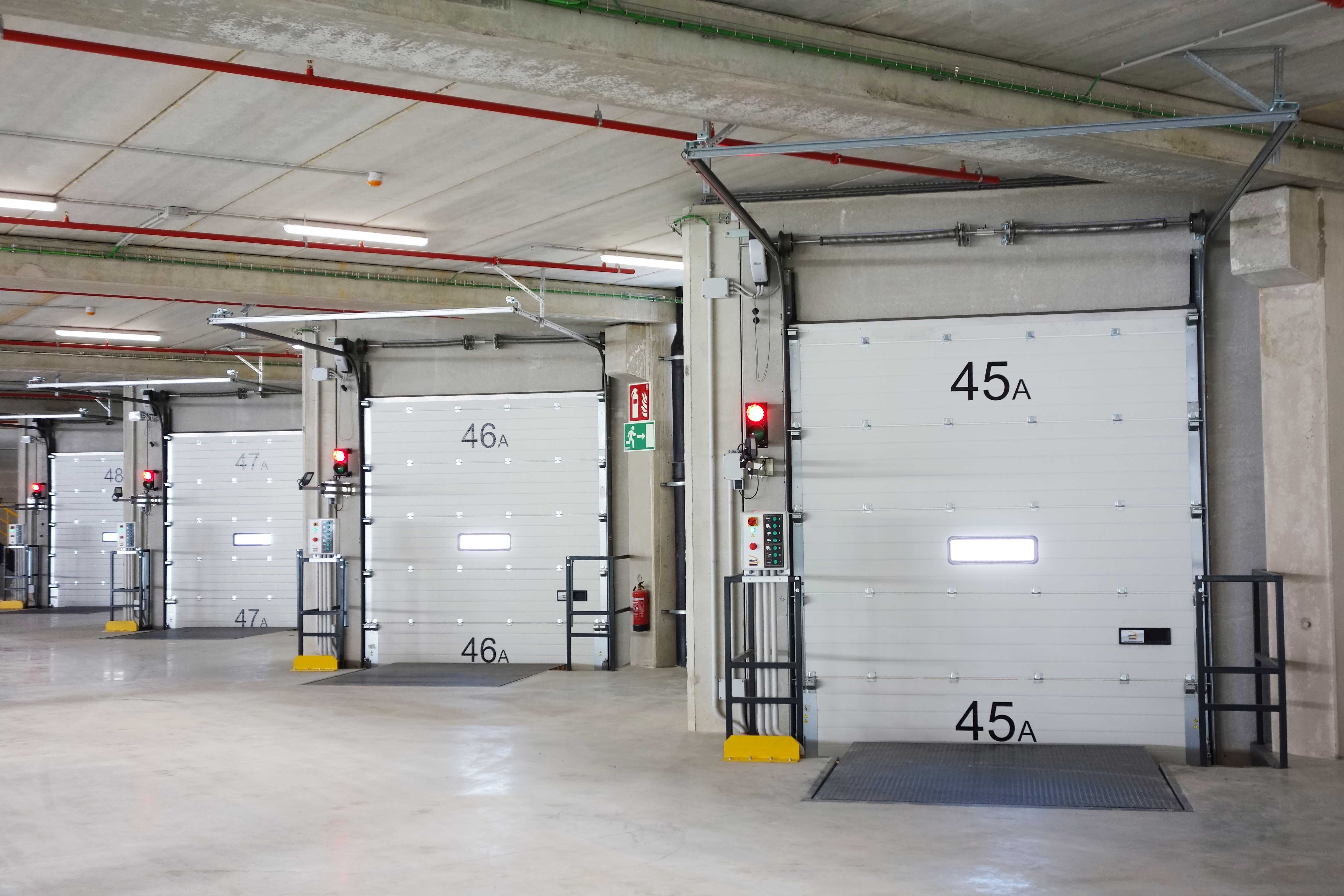 Panel specifications
Dimensions:
Width: 40 mm
Height: 500 mm / 610 mm
Weight: 9,83 Kg/m²
Densidad: 40-42 kg/m² ( ±5% )
Panel insulation factor:
K value – Watt m2. °C – 0.50
Other specifications:
Resistance to water: IP65
Resistance to wind: up to 120km/h. Type 3 (upon dimensions)
Fire resistance: B3 - DIN 4102
Working temperature: -30ºC; +60ºC
Soundproofing: R=28dB
Optional motorisation.
All tolerances according to DIN EN 10130
In addition to the standard features, we also offer options:
80mm thick panel (only available in colour RAL 9002).
Pedestrian door.
Stainless steel fittings and guides.
T-shaped panel base.
UPS Kit (Uninterruptible Power Supply).
Manual handle and external lock.
Small windows with rubber profiles (3 sizes available): 638x206mm / 680x373mm (rectangular) and 663x343mm (oval).
Colours available for sectional door panels are as follows: