The RH22/RH32 Dock Leveller can bridge the distance and height between the loading bay and the body of the lorry, using its hydraulic tilting mechanism and retractable lip.
Its 500mm or 1000 mm telescopic hydraulic lip is long enough to allow the dock leveller's platform to rest firmly on the lorry's trailer.
There are 4 standard sizes for the RH22/RH32 Dock Leveller, with different widths for the telescopic lip. We also design and manufacture dock levellers that are up to 4500mm long x 2400 wide x 900 high*.
L 2070 x (W 1800/2000/2200) x H 605mm (For RH22 dock levellers only)
L 2570 x (W 1800/2000/2200) x H 605mm
L 3070 x (W 1800/2000/2200) x H 805mm
L 3570 x (W 1800/2000/2200) x H 805mm
*For other dimensions, please consult Customer Service
Especially suitable for facilities where thermal insulation is very important.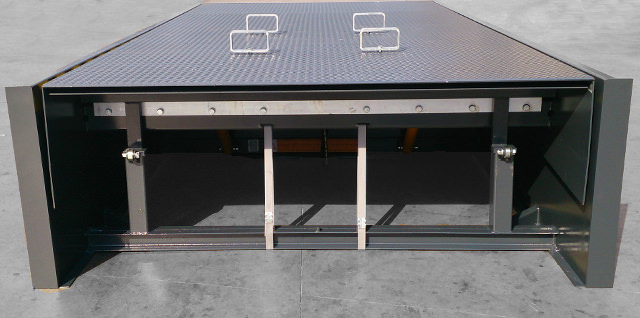 The Suspended Type Levellers require no frame for securing them to the pit, as the machine already has one. Its main advantage is that the frame and leveller can be installed at the same time, as the frame is integrated to the leveller. Another advantage is that no bottom support is needed as all the pressure is transmitted to the superior edge of the pre-frame of the leveller, leaving a free space underneath the leveller to allow trucks with their own rear loading bridge to fit inside this space.

The Inkema RH22/RH32 Dock Leveller is composed by three parts:
The platform has a 8/10 mm tear plate top, rolled steel sctions and lateral toeguards.
Compact and robust lip made of 13/15 mm thick steel tear plate. The lip is hinged and its end is milled, allowing it to fit against the lorry perfectly and smoothing the lorry's passage.
The lower structure is made from rolled steel sections and the platform and hydraulic group are installed on it.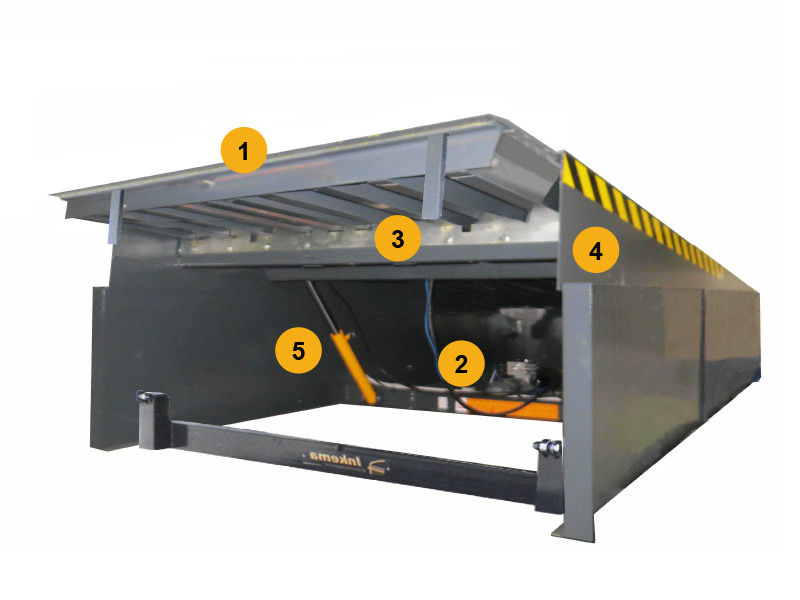 Telescopic lip (500-1000mm) designed to fit perfectly against the lorry.
Hydraulic equipment: electric motor, hydraulic pump and tank.
Grooved comb system on the front of the machine. Reduces structural stress and increases the life of the dock leveller.
Toeguards for feet protection and black & yellow safety bands.
Lifting cylinders with Ø50mm piston rod and anti-fall safety valve.
All the Inkema Dock Levellers and loading bridges have been calculated and designed pursuant to the following European directives and standards.
The RH22/RH32 Dock Leveller has the following safety features:
Emergency stop: Activated by switch or power failure.
Fixed and movable toeguards: Prevent feet from being trapped between the platform and the pit.
Side bands: Help reduce the risk of collisions.
Safety bar: Prevents it from closing during maintenance.
Anti-fall safety valves inside the hydraulic cylinder.
Platform with anti-slip tear surface on top.