The Inkema RH65 Yard Ramp is the most versatile leveller in the market. It is recommended for loading and unloading operations in industrial warehouses and premises with no dock facilities to allow the forklifts to reach the truck from ground level. Depending on the needs of each customer, they can be made in different lengths and with different loading capacities.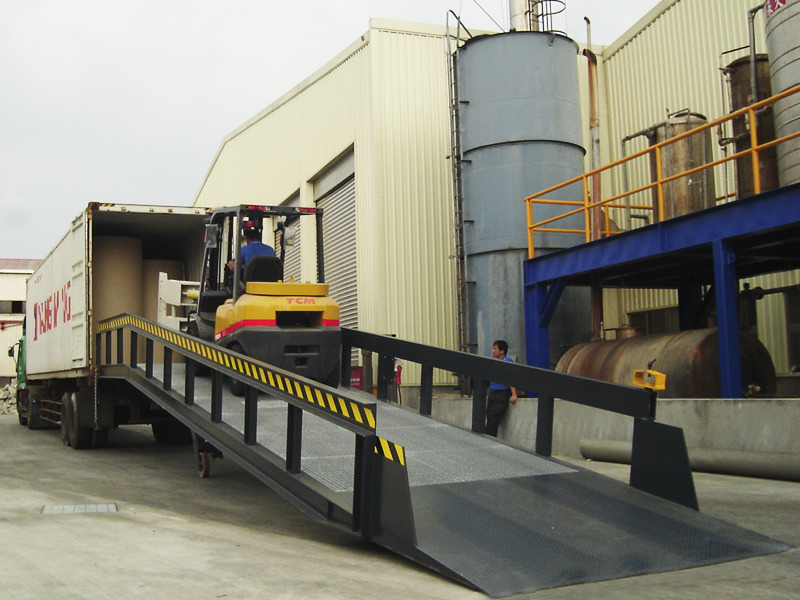 Once the leveller has been coupled at the truck height, it is anchored by a chain system that blocks and prevents the leveller and truck from separating, thus allowing the operations to be carried out smoothly.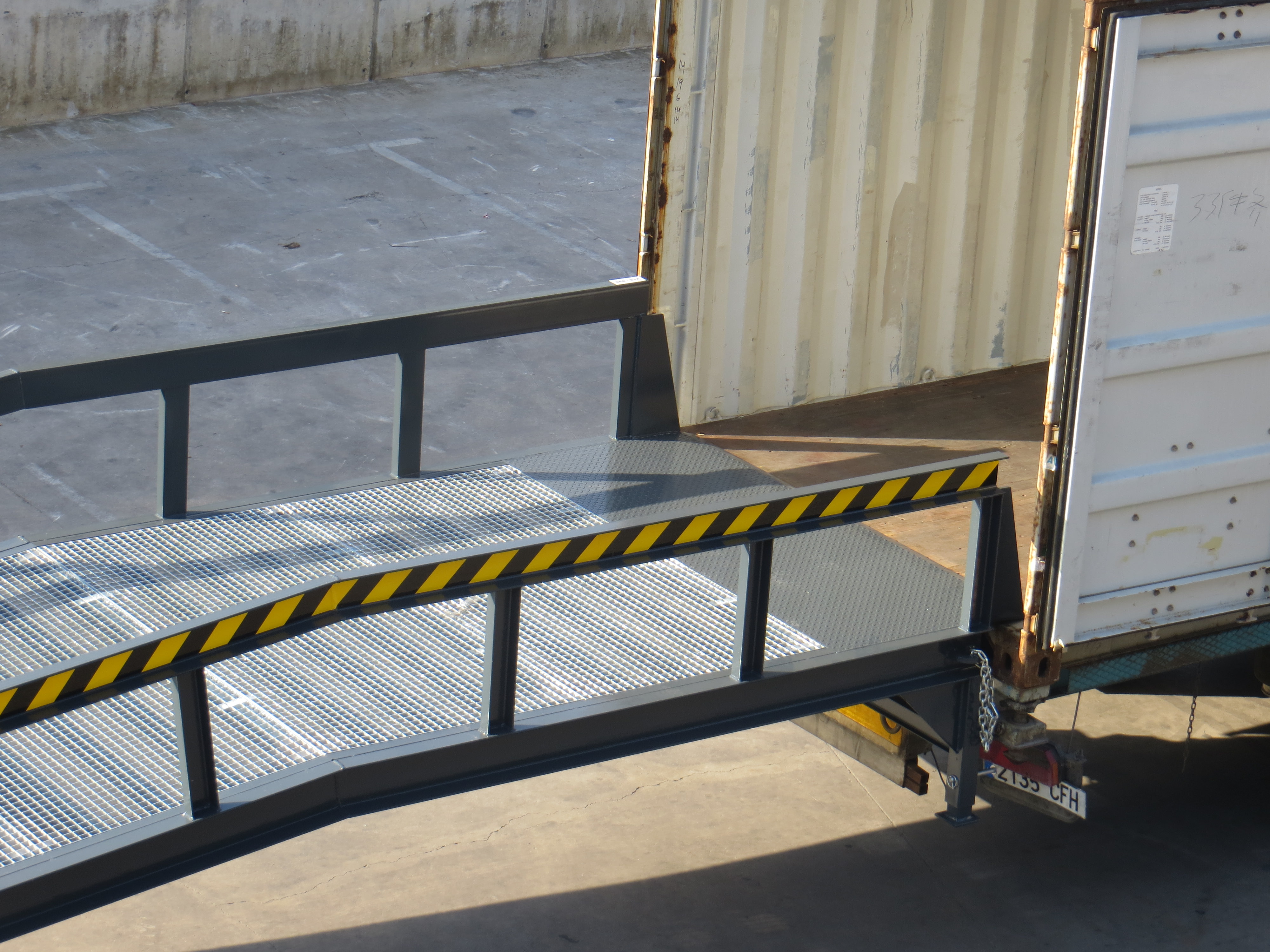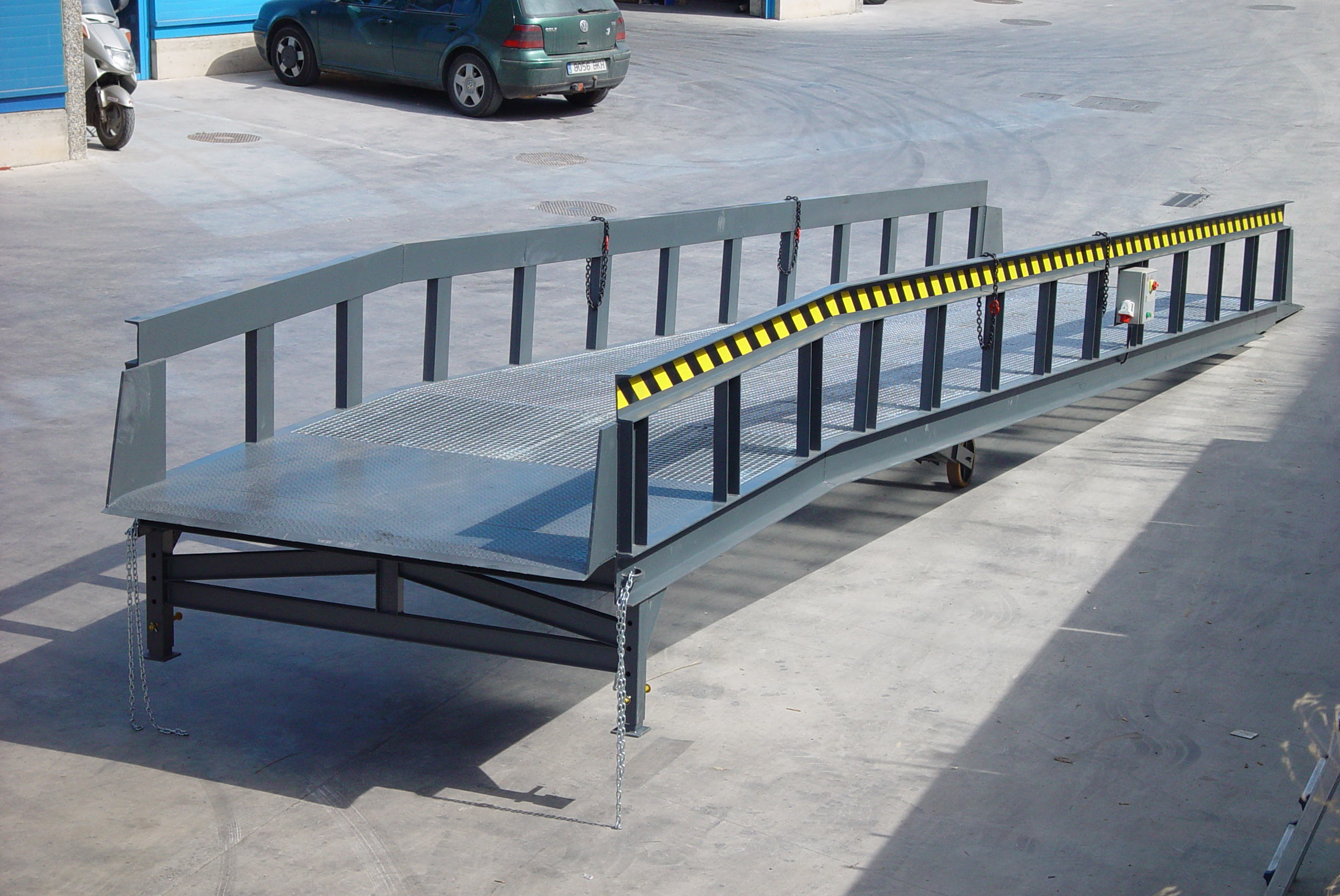 RH65 floor has an anti-slip coating with tear plate at the front and end parts which permits all kinds of movements including the turning of the fork truck wheels, without suffering any damage. The rest of the intermediate section, where the forklifts wheels cannot turn, is formed by a tramex-type metal trellis supported by a metal profile structure.
The nominal dimensions of the RH65 depend on its load capacity:
For an RH65 with a capacity of 6 tons: L12000 x W2240 x H max 1400mm
For an RH65 with a capacity of 10 tons: L12000 x W2315 x H max 1400mm
Working range: from 900 to 1700mm in height.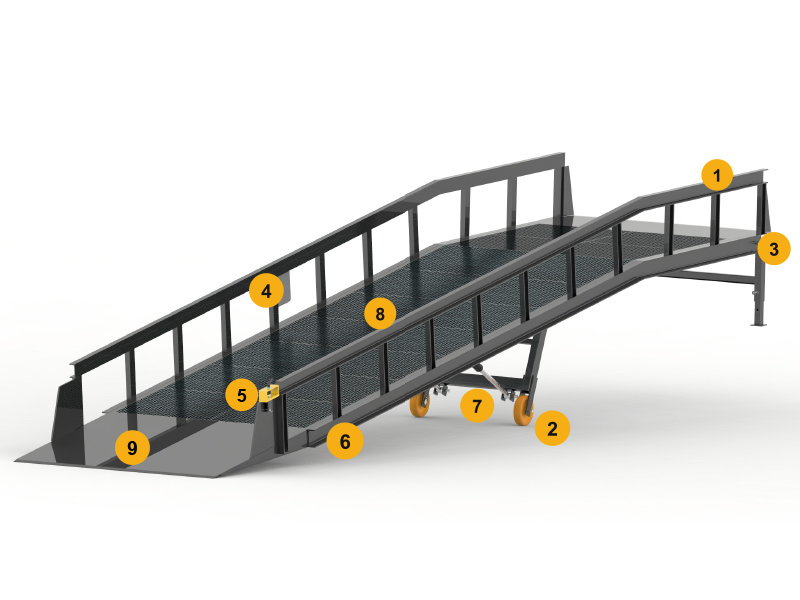 The sides of the ramp consist of robust rails. These are a fundamental part of the structure, and they also act as a perimeter guard.
Thanks to the lifting system's wheels the ramp can be towed to the desired location.
The RH65 is including fastening chains to attach the ramp to the lorry's trailer. They prevent accidental separation in the event that the vehicle moves away unexpectally.
The control panel is designed exclusively by Inkema (for the RH65 and its hydraulic system).
Forklift blade fastening that directs the ramp into the correct position for loading or unloading manoeuvres.
All components, like the moving parts, claws and free frames are painted with an anti-corrosive primer and then with high quality paint. This ensures a double painted 1 + 1 coat that provides 200% protection.
Ramp's hydraulic lifting cylinders.
The middle section of the ramp's surface, where the wheels of the forklifts will not turn, the floor is made of a tramex-type grid. This is supported by a steel profile structure.
The surface of each end of the ramp is made of tear plate. This allows for movement, including the turning of the wheels of forklifts, without any deterioration.
TYPES OF RH65 RAMP
The RH65 Yard Ramp is equipped with hydraulic lifting system that can be operated in three different ways:
By hand pump.
By pump driven by low-voltage electric motor and powered by batteries.
By pump driven by electric motor connected directly to the mains using an extension cable.
Depending on the needs of each customer, they can be made in different lengths and with different load capacities.